Today, we honor the legacy of the Rev. Dr. Martin Luther King, Jr. Classes resume Tuesday, January 19, 2021.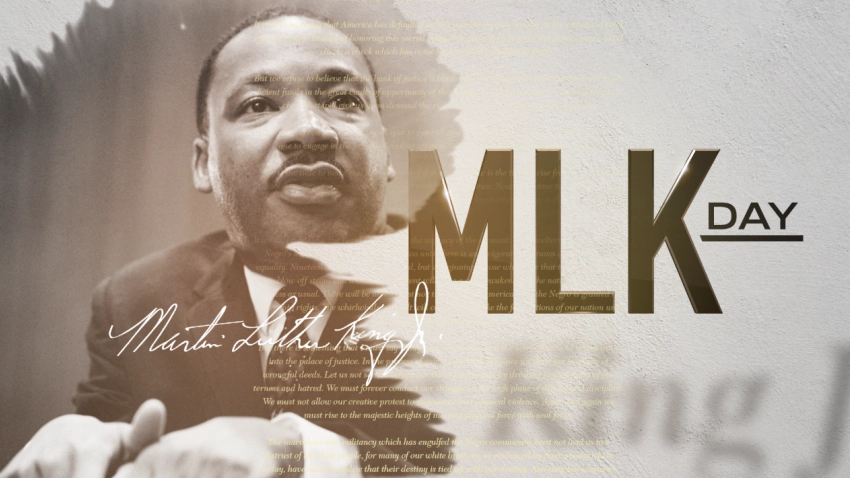 REMINDER: There will be no school on Monday, January 18th, 2021, in observation of Martin Luther King Jr. Day. Classes will return to a regular schedule, five days a week, beginning Tuesday, January 19th, 2021.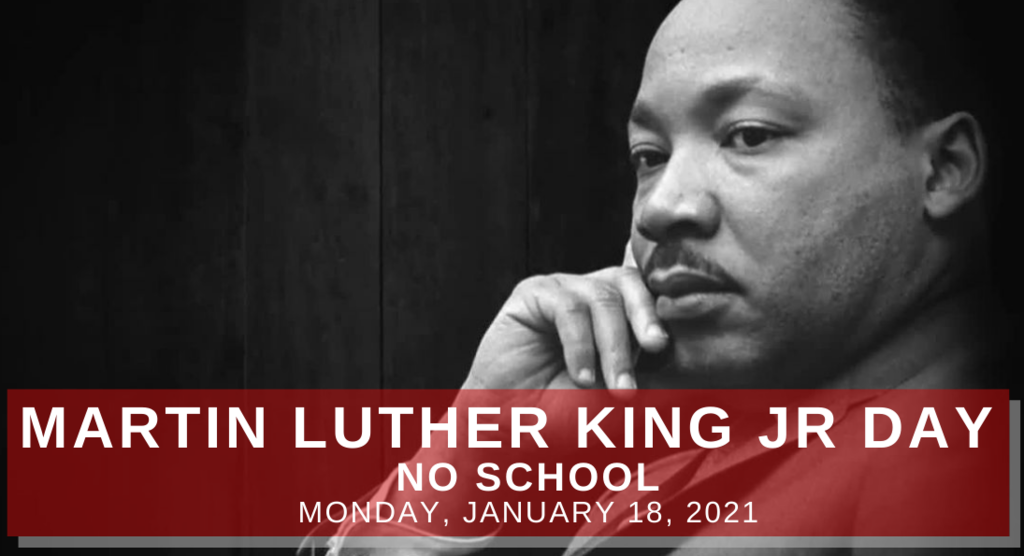 High School Integrated Math Teacher 2021-2022 School Year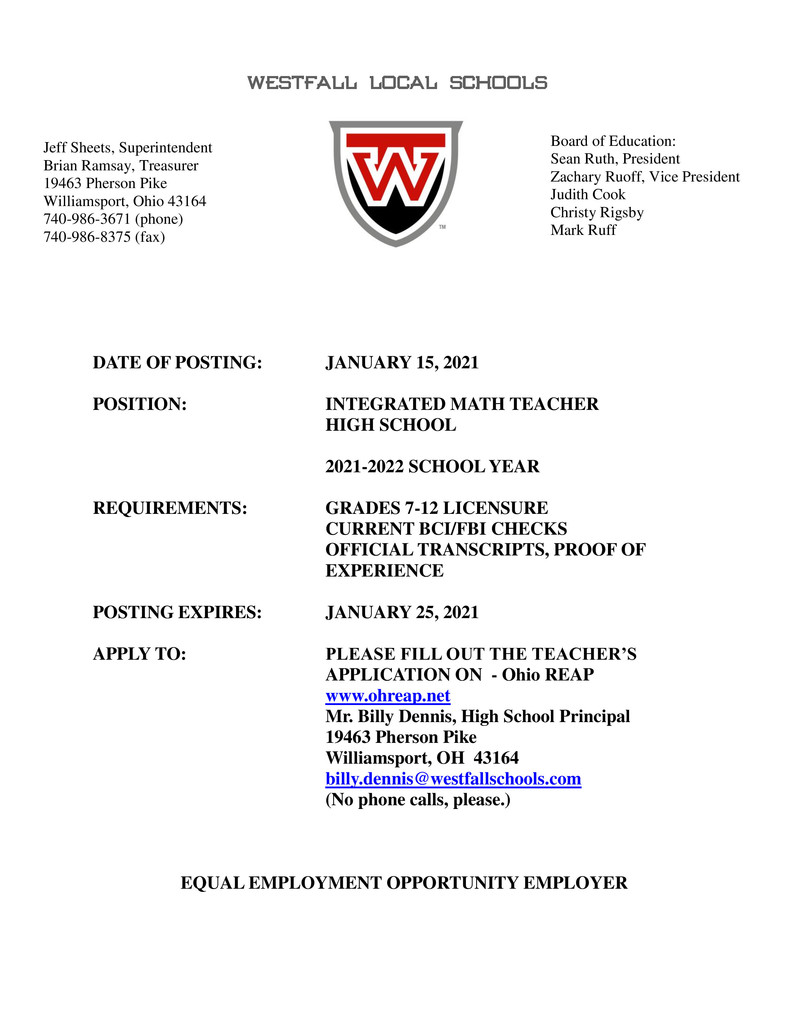 Please see the attached job postings for: Spring Sport Supplemental 2020-2021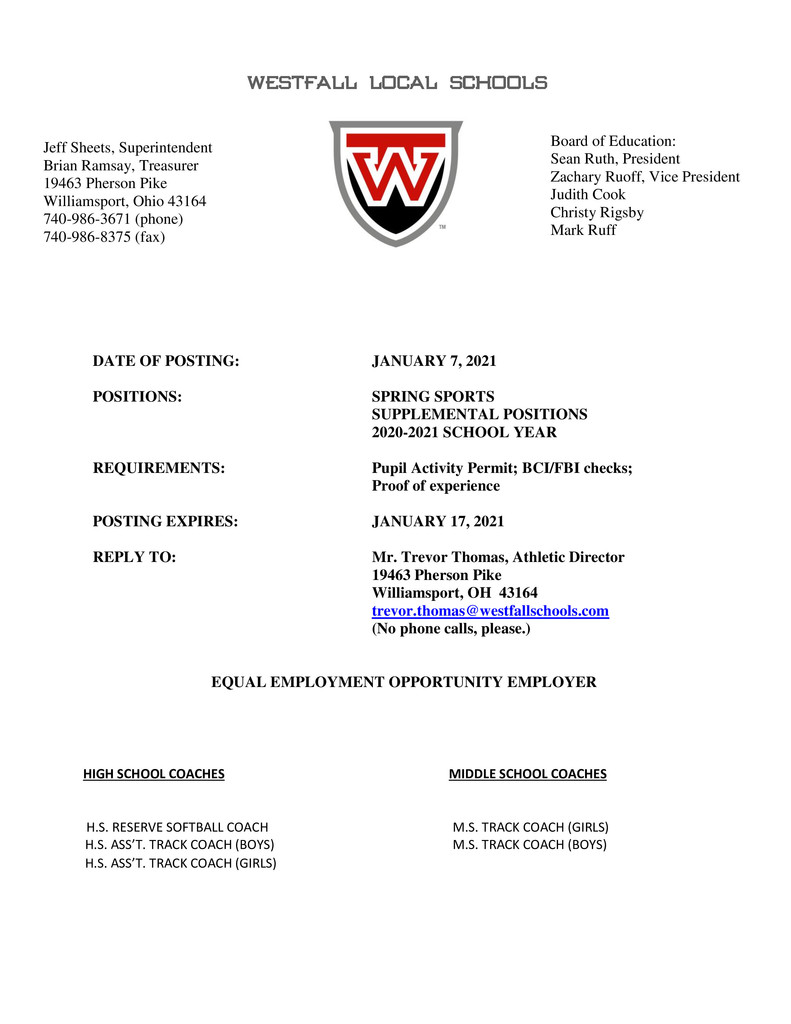 Wishing you and your family health, happiness, and prosperity in the new year. Happy 2021, Mustangs!

Classes resume on Tuesday, January 5, 2021. Westfall Local School District will continue to follow the hybrid learning model through Friday, January 15, 2021. We will keep you informed of any future updates.

Please see the attached posting for: Fall Coaches Supplemental Openings for the 2021-2022 School Year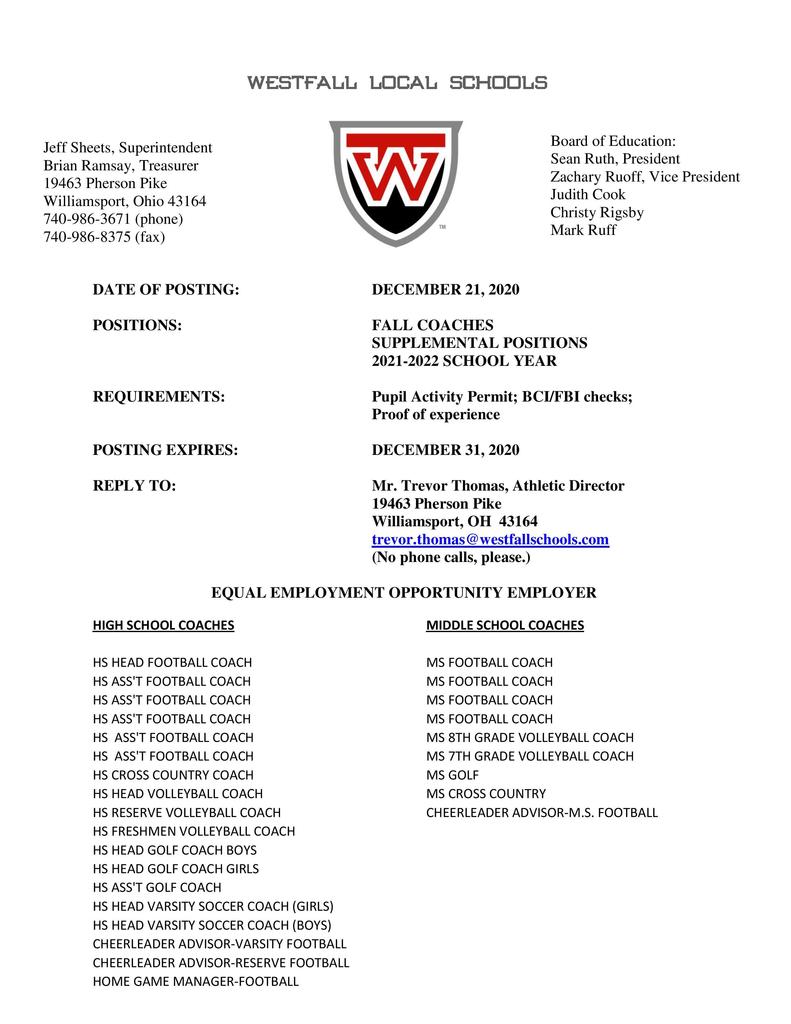 This morning, Westfall High School staff surprised new dads, Christian Meister and Matthew Greenlee, with diapers and donuts as we welcome our newest Mustangs to the #mustangfamily, Charlie Ray Meister and Denver Stang Greenlee!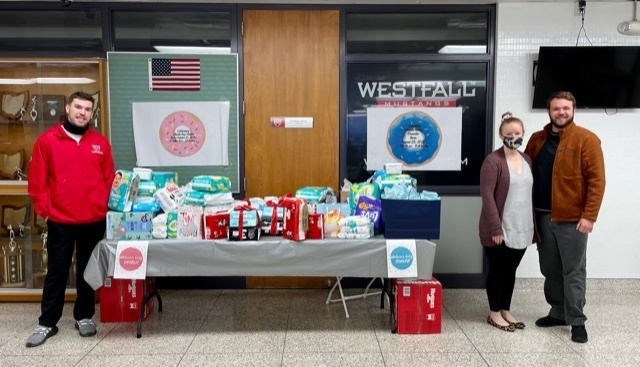 REMINDER: Districtwide 2-hour early dismissal for all students on Friday, December 18, 2020. School will not be in session from December 21 through January 4 for the winter break. School will resume for students on Tuesday, January 5, 2021.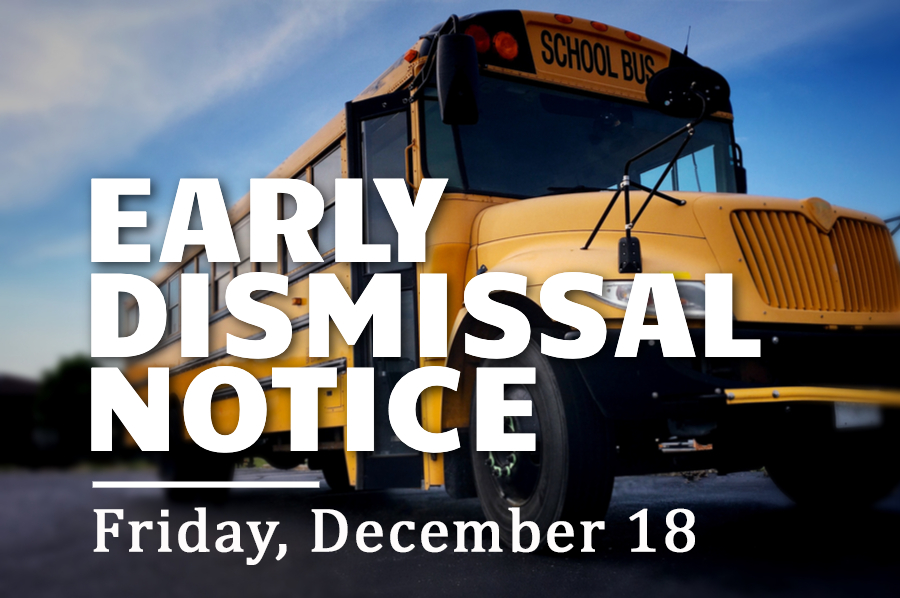 Mrs. Yeager's class invited Michael Blue, Deputy Thomas' K9 partner, to her Family Consumer & Science classroom and surprised him with homemade healthy dog treats made by her students! The treats are made with peanut butter and pumpkin and are sure to be a hit with any pup! Michael Blue gave them a "two paws up" review!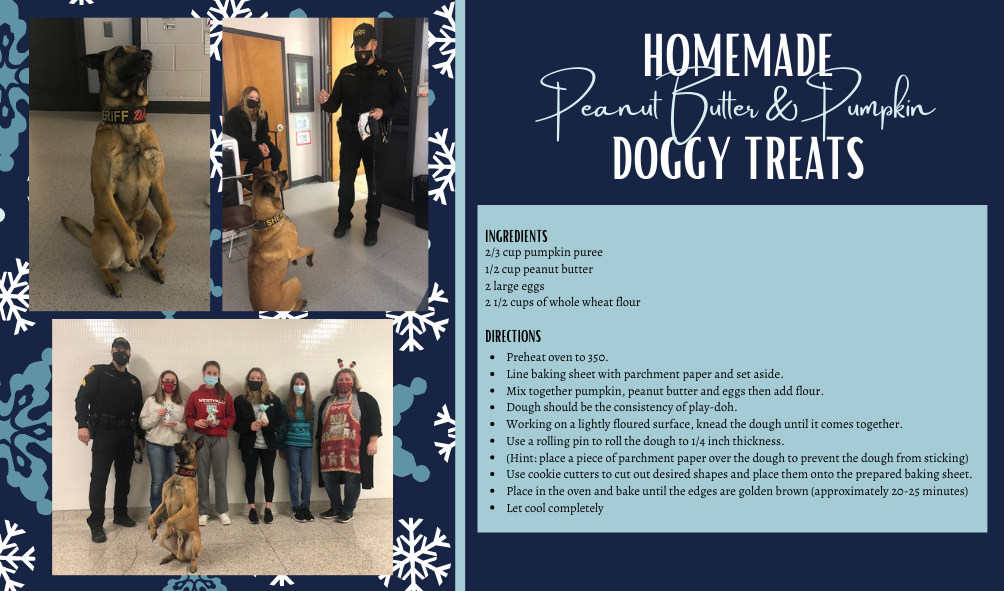 Sophomore Mason Jacobs was the winner of the "Write in Red, Red Ribbon Week" contest for Westfall High School, winning $100 for his essay! The Paint Valley ADAMH Board sponsors the annual drug-abuse prevention campaign, seeking essays composed in red ink by teenagers with suggestions on how to prevent drug, alcohol, and tobacco abuse. His winning essay was then sent on to the next level, where it was judged against Pickaway County winning essays and was chosen as the county winner, awarding him a $500 scholarship. Congratulations, Mason!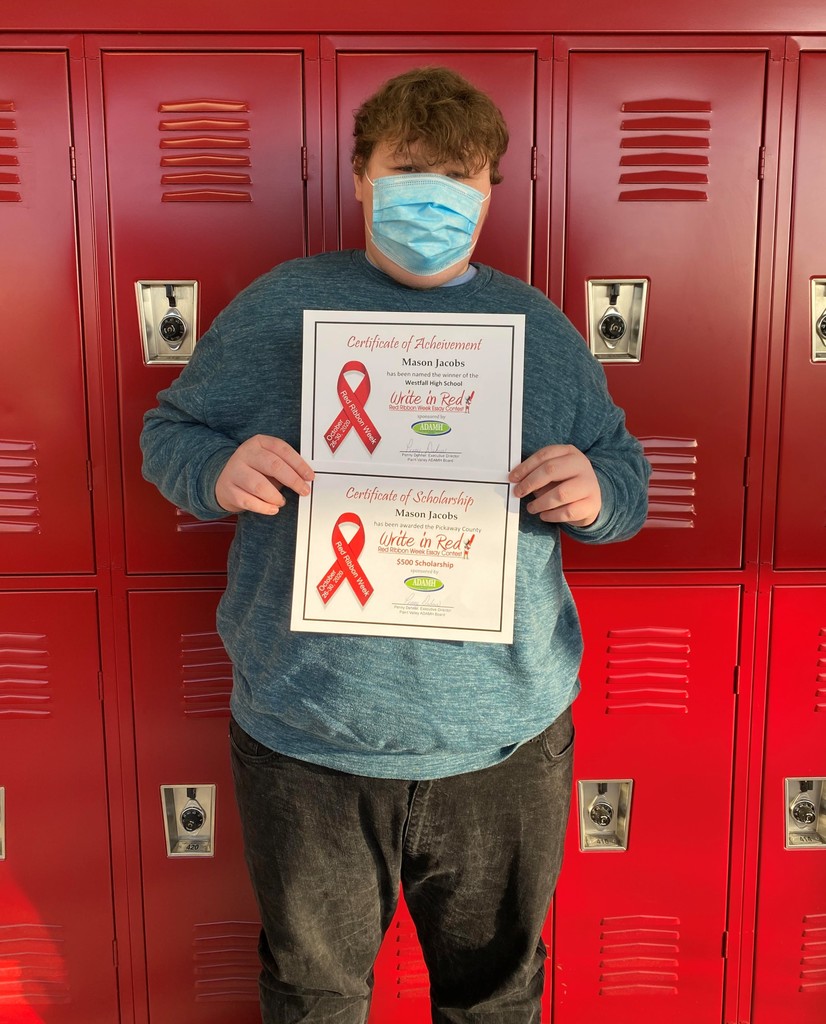 Westfall NHS is hosting a blood drive on Sunday, January 3 from 8 AM-2 PM. This is outside the normal school schedule, but the Red Cross is in urgent need of blood. Hospitals always have a critical need for blood during the holiday season. Donors will receive a free shirt! Your blood will also be tested for COVID-19 antibodies. Sign up by following this link and searching for westfallhs:
https://www.redcrossblood.org/

Congratulations to Westfall High School's November Students & Staff Members of the Month! 9th - Caitlyn Shipley - Caitlyn is hardworking and personable. She performs at a high level academically and also was an SVC cross country champion and state qualifier. She asks questions and participates in class. She cares about her teachers and classmates. She is kind and welcoming to all. She is always smiling. She is also a big help in FFA, helping with the adopt-a-highway project. 10th - Caleb Graul - Caleb is always working and always has a smile on his face. He is a great basketball coach; he took over the paperwork and temperature checks for our head coach when he went on paternity leave. 11th - Olivia Barnes - Olivia is a leader in and out of class. She is diligent and follows through with her commitments. She is leading the food science and Parli Pro teams in FFA. We had a strong three-way tie with the seniors: 12th - Shade Craig - Shade is smart, hard-working, and kind. He works hard to be a contributing member of class every day and is always respectful and friendly. 12th - Jack Latham - Jack is an outstanding student leader and athlete. He represents WHS in a positive manner wherever he goes. He is a big help with student council projects like Haunted Hallways. 12th - Kailee Yang - She is such a joy to have in the office as a worker and to have in the classroom. She is polite and catches on to things quickly. She is friendly and helpful. Congratulations to our November Staff Members of the Month: Emily Smith and Rick Caplinger! Photo 1, Pictured L-R: Rick Caplinger, Emily Smith, Jack Latham, Shade Craig, and Olivia Barnes Photo 2, Pictured L-R: Caitlyn Shipley, Kailee Yang, and Caleb Graul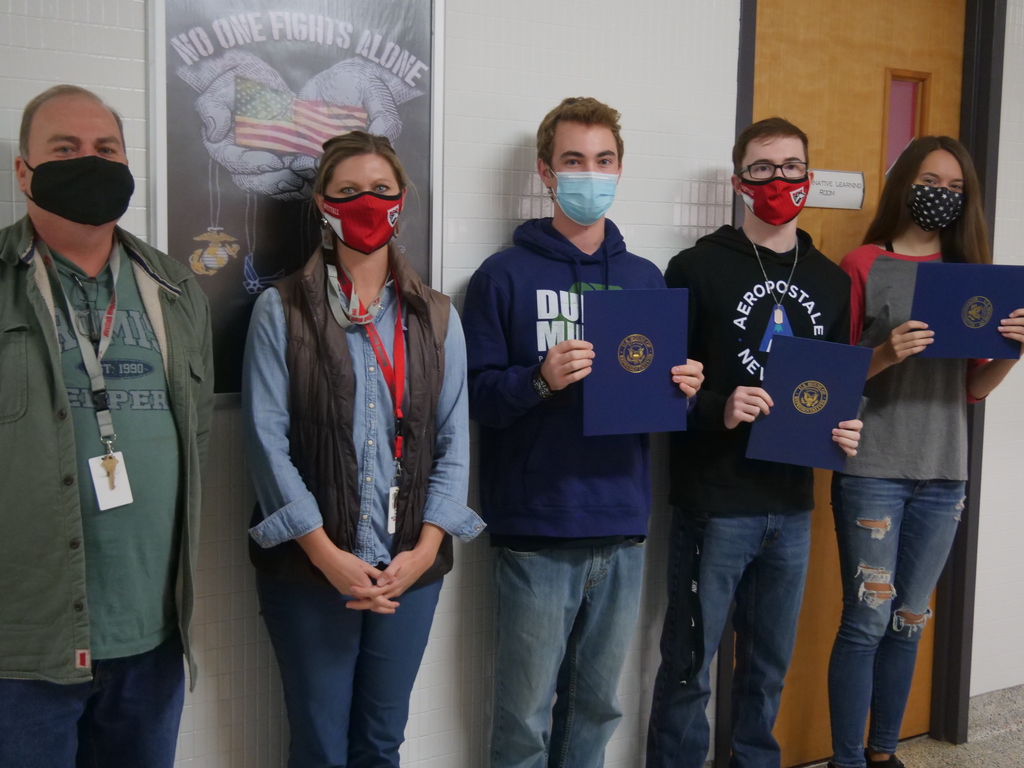 Out of an abundance of caution for the health and safety of our performers, Westfall High School has made the decision to cancel the virtual choir and band concerts that had been scheduled for December 9 and December 15.

Starting tomorrow: Independent Living Classroom will be selling $1 masks during lunch at the high school!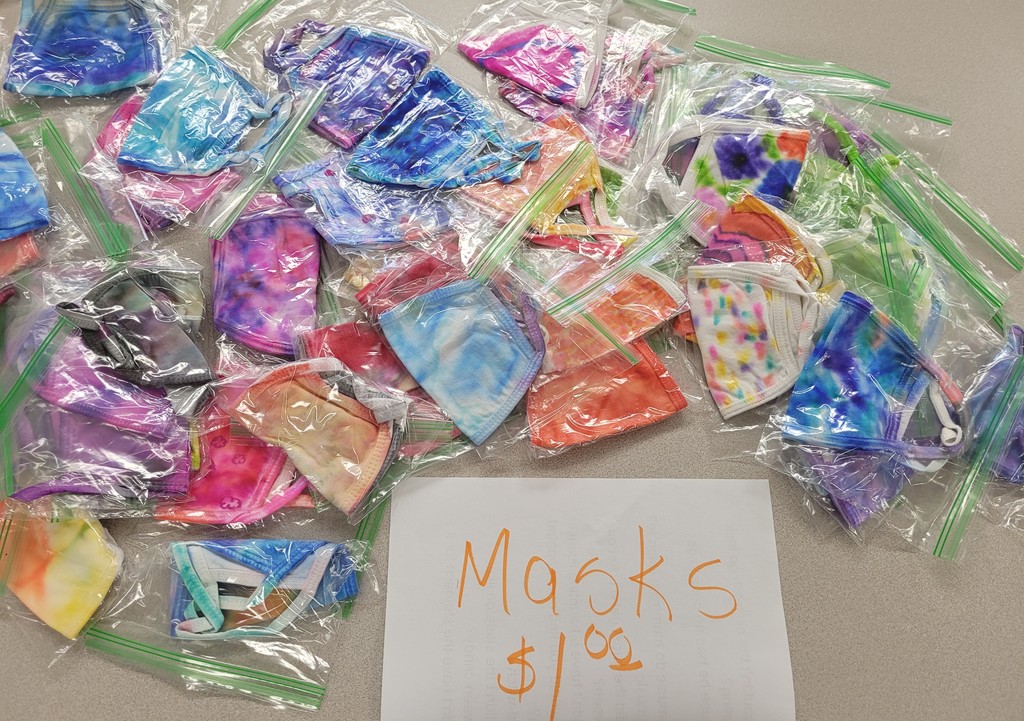 Please see the attached job posting for: Spring Sport Supplementals 2020-2021 - H.S. HEAD SOFTBALL COACH - H.S. RESERVE SOFTBALL COACH - H.S. ASS'T. SOFTBALL COACH - H.S. ASS'T. TRACK COACH (BOYS) - M.S. TRACK COACH (GIRLS) - M.S. TRACK COACH (BOYS) - H.S. ASS'T. TRACK COACH (GIRLS)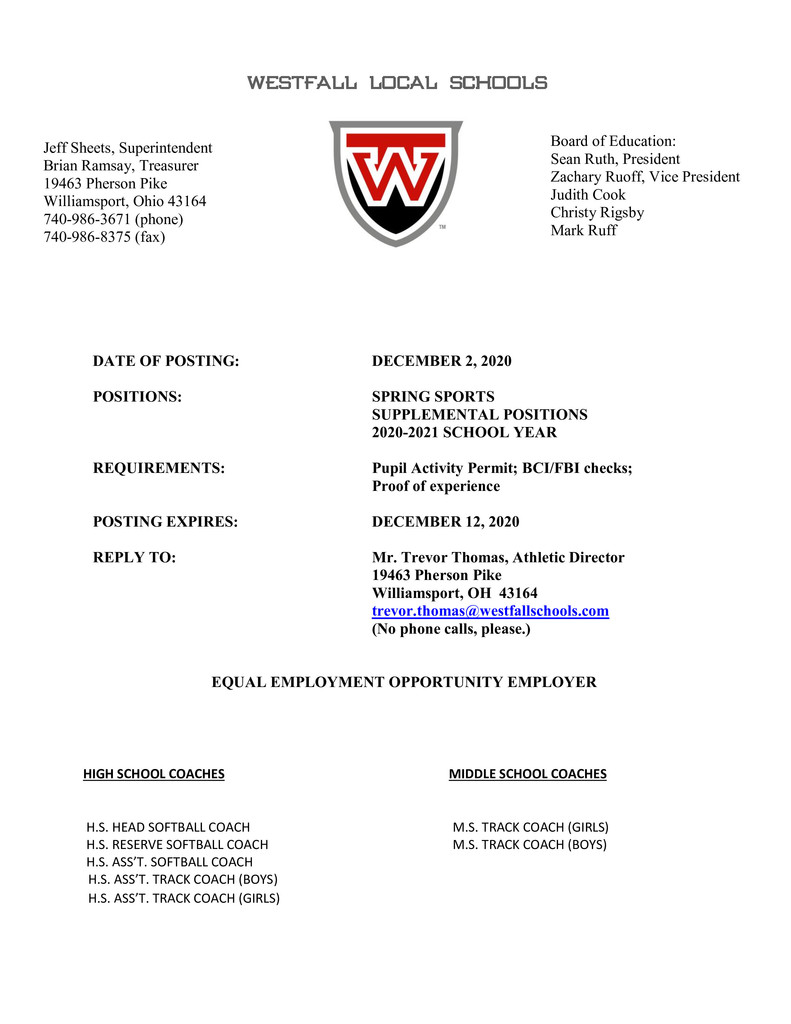 Pickaway-Ross students are on a 2-hour delay this morning (Tuesday, December 1). Westfall buses will pick Pickaway-Ross students up during the elementary route, so please keep an eye out for the bus!

The Pickaway Addiction Action Coalition (PAAC) is here to help local residents and families in need during the global pandemic. Visit drugfreepickaway.com/resources for a list of groups and agencies offering assistance.

REMINDER: Thanksgiving break has been extended. There will be no classes held (on-campus or remote) Monday, November 23 and Tuesday, November 24. Classes will resume on Monday, November 30.