REMINDER: A week's worth of meals will be distributed at the Grab & Go Lunch Program tomorrow from 10am-11am at the following locations: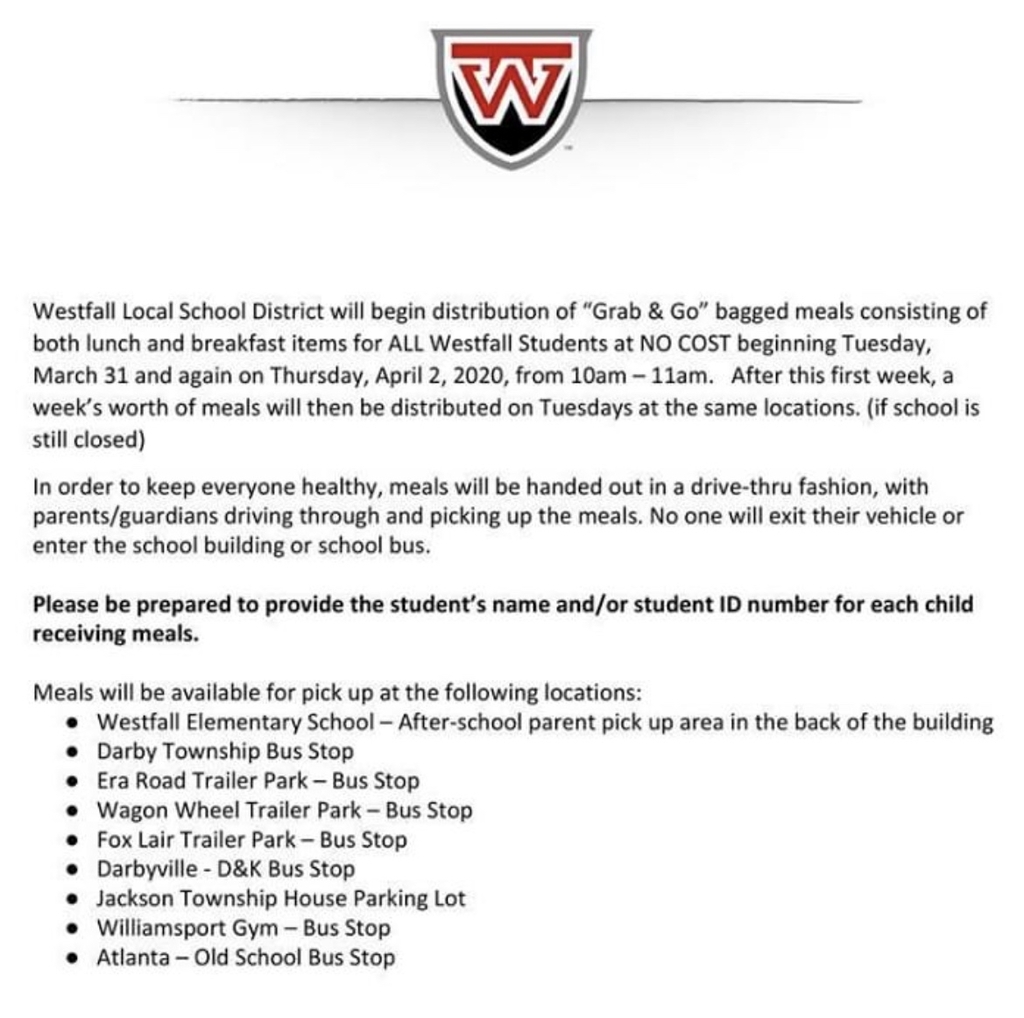 Starting at 7:00 am, WOSU TV's main TV channel will broadcast a line-up of shows aimed at supporting families learning from home during emergency school closures. This TV line-up features educational programming for all grade levels starting with shows like Xavier Riddle and Peg + Cat for PreK - 3rd grade students in the morning and moving through other great PBS shows like NOVA for older kids as the day progresses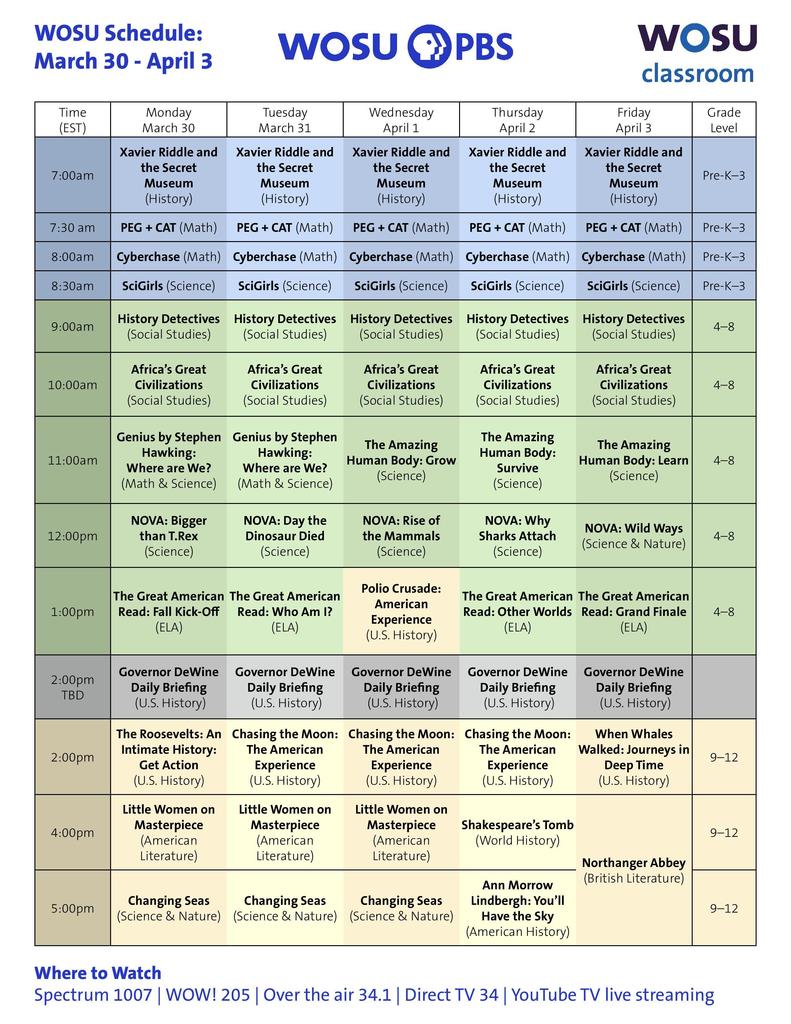 As announced by Governor DeWine moments ago, Westfall Local School District will remain closed through May 1, 2020. We will continue to keep you updated with any further information as it becomes available.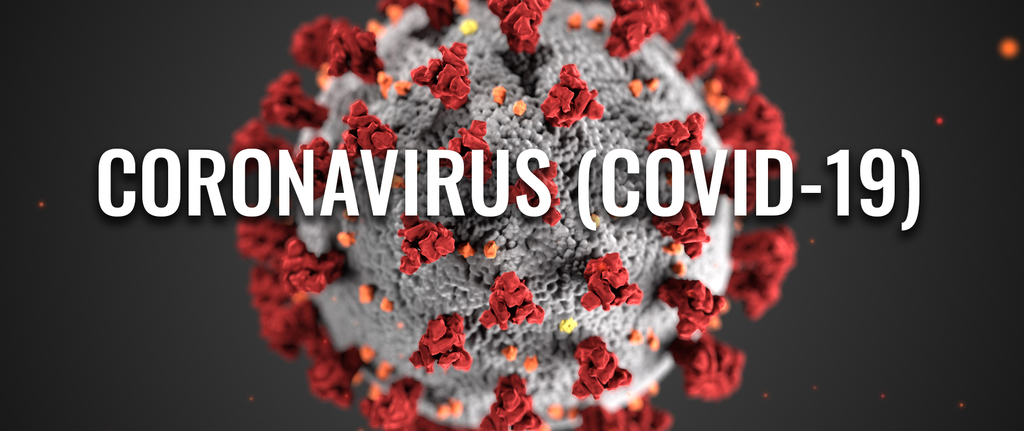 TECH HELP: If any staff member, student, or community member is experiencing a technical issue during this time of remote learning, please submit a tech request to the Westfall Technology Department by clicking the following link:
https://forms.gle/LaiCpCDZdNkVB5Pv9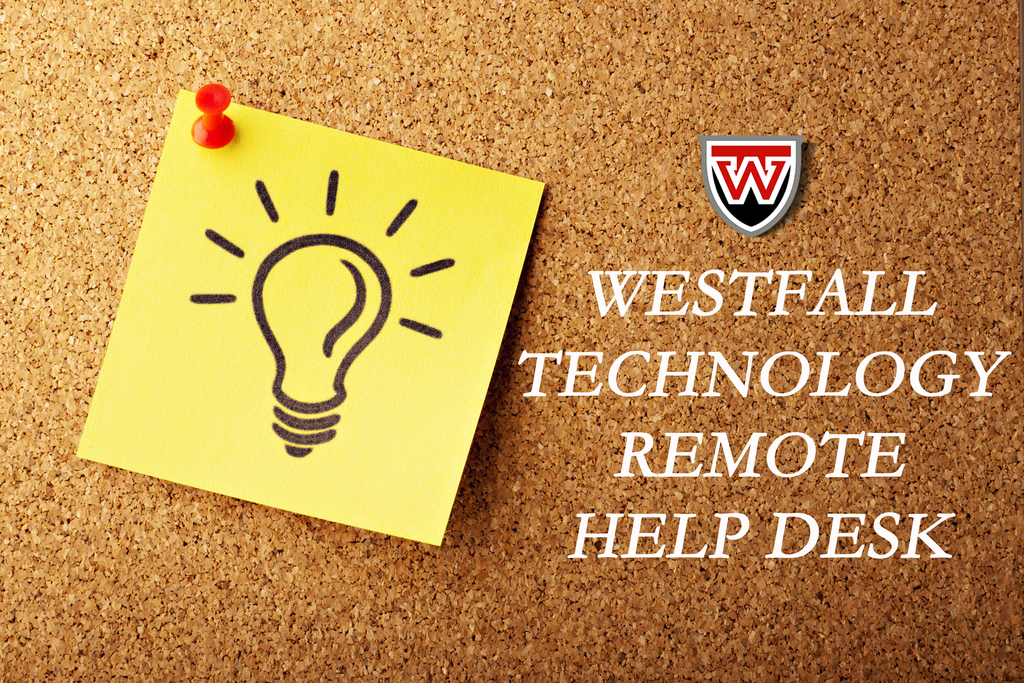 Do you know an exceptional teacher that deserves recognition? Nominate them for the 2020 Westfall Education Foundation Teacher Appreciation Grant at
https://forms.gle/79s3BVDx8ScfGmWF8

Hey Mustangs! "Grab & Go" lunches will be available for pickup at the following locations starting March 31st!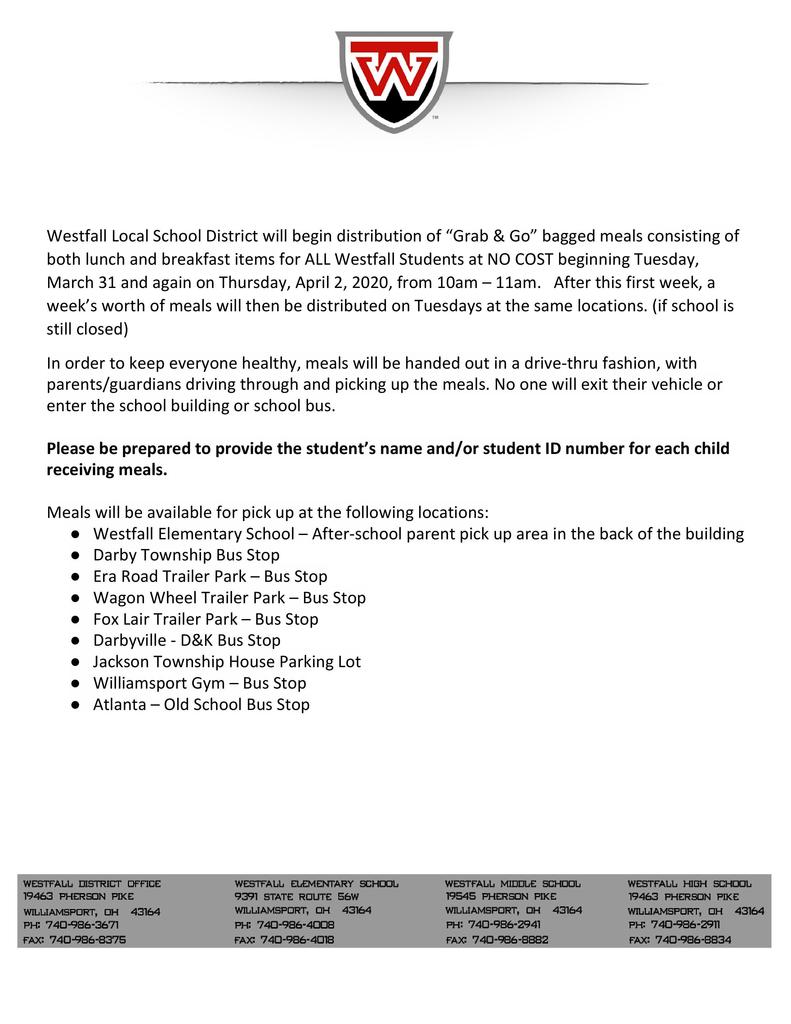 A HUGE shout-out goes to the hardworking guys in Westfall Local School District's Technology Department! JD Williamson and Nick Downs have worked incredibly hard, making sure we are all connected and that this transition to remote learning is a smooth one. They have recently finished installing WiFi hotspots to our WES parking lot to allow users the opportunity to access the internet for FREE! Users who stop by to utilize the FREE WIFI will be connected to the Westfall Guest Network!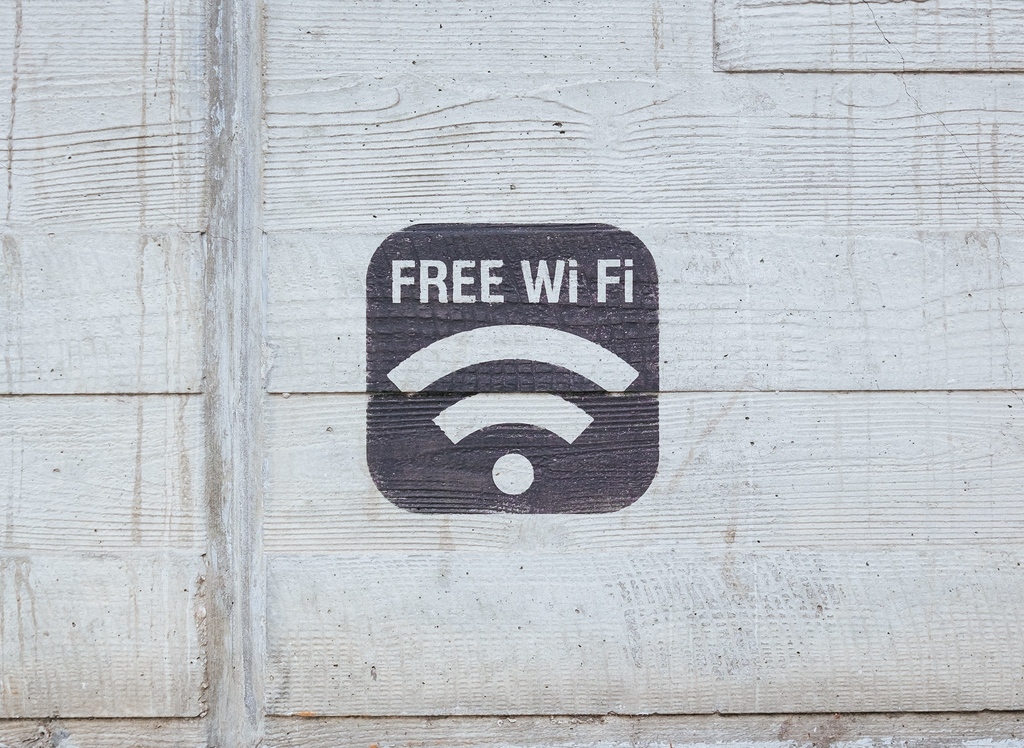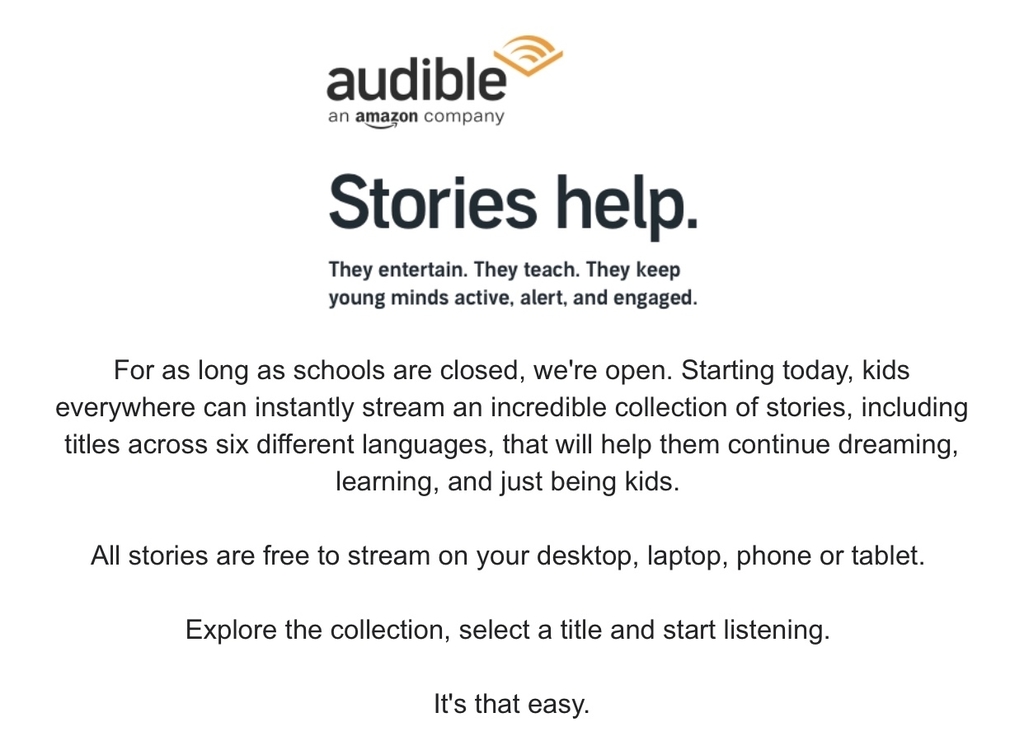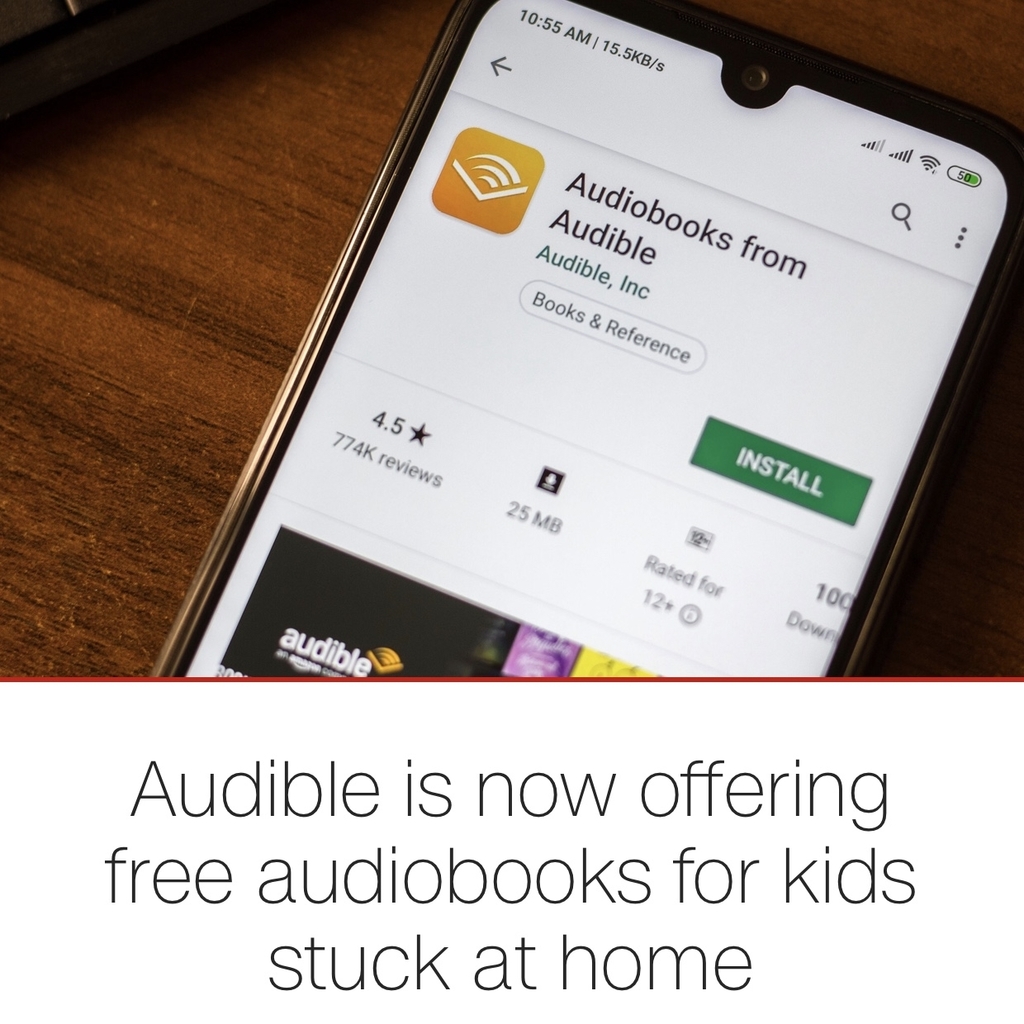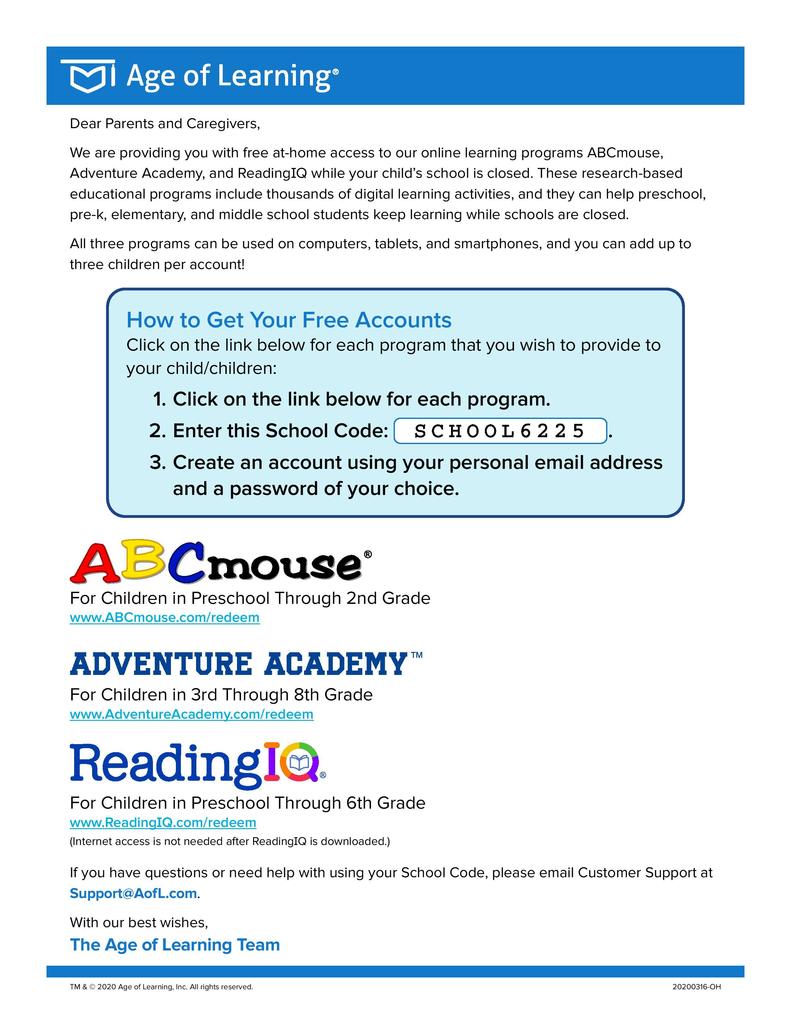 Parents: See below for a redemption code for FREE home access to ABC Mouse Early Learning Academy, Adventure Academy, and ReadingIQ during this period of school closure.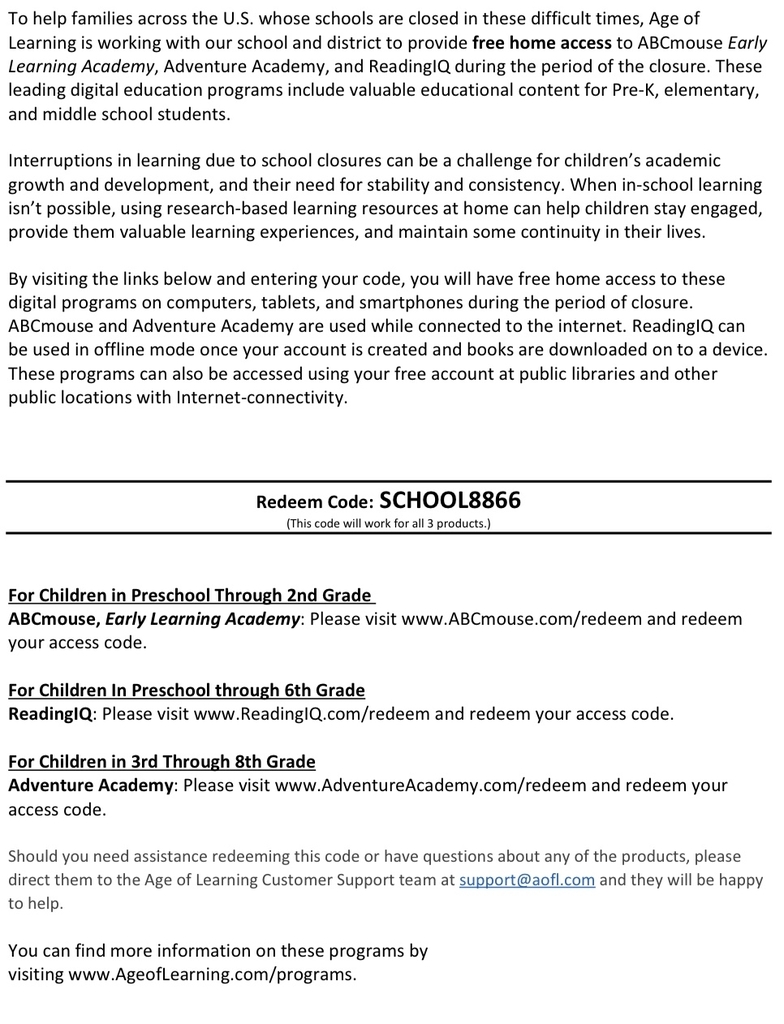 Governor Dewine has mandated that schools close for three weeks due to the spread of Coronavirus. Due to this statement, Westfall Local Schools will be closed tomorrow, Friday, March 13th through Friday, April 3rd. All staff is to report to school tomorrow in order to prepare relevant learning activities that students can work on over the next 3 weeks. Parents and students may stop by the building tomorrow to pick up anything they may need, including medications that are routinely taken at school. All school and sport activities will be cancelled during this closure.

Kindergarten Registration and Screenings for the 2020-2021 school year will be held at Westfall Elementary School on May 12-14. If your child is currently enrolled in Westfall's preschool program, you will need to call to register your child.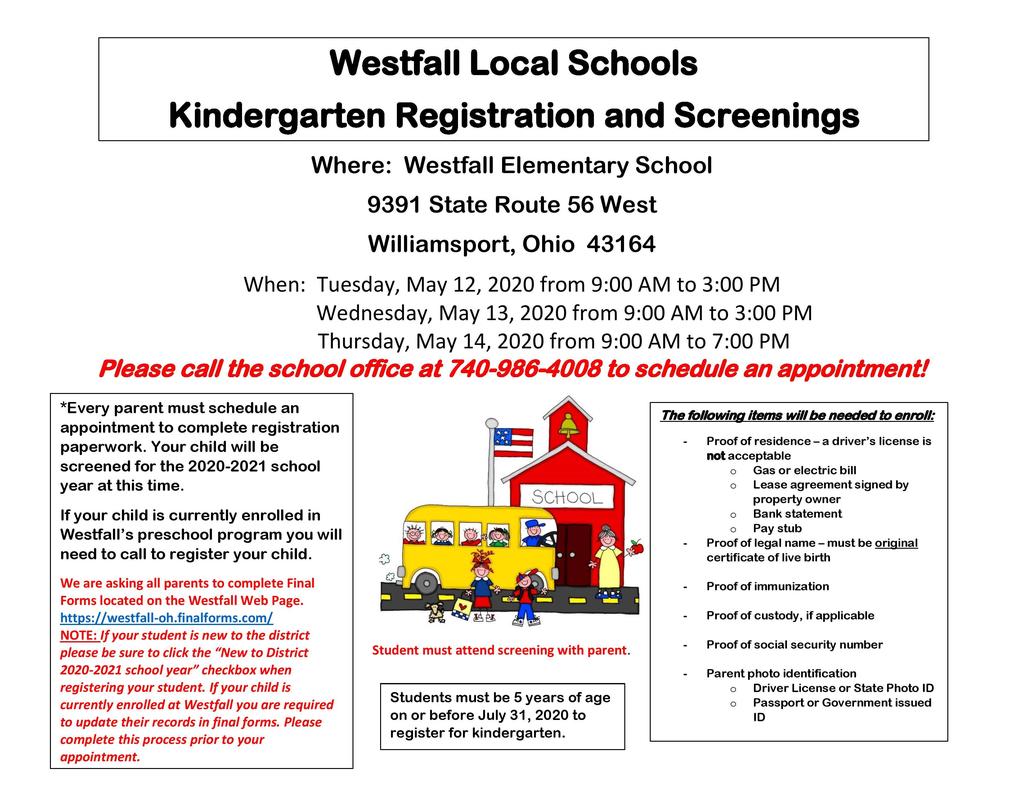 IMPORTANT UPDATE: Our local health department has asked county schools to cancel all non-essential travel, which includes field trips throughout the next 30 days, along with the high school choir trip to Nashville, Tennessee. Our high school musical, "The Wizard of Oz," is currently postponed until further notice. We will re-evaluate the situation at the end of 30 days and continue to keep you updated with any additional information.

Families, Please read the following statement from Superintendent Jeff Sheets regarding the current COVID-19 virus and the precautions that the district is taking to keep our students and staff safe and healthy.

Westfall Local School District is experiencing a phone outage. Frontier is aware of the situation and is working to resolve the issue.

REMINDER: Monday, March 2, Westfall Local Schools will be operating on a scheduled 2-hour late start for students. Buses will run two hours later and there will be no AM Preschool. Have a great evening!

Westfall Local Schools will be CLOSED today, Friday, February 28th.

Westfall Local Schools will now be CLOSED for Thursday, February 27th.

WHS presents "The Wizard of Oz" March 13th and 14th at 7:30pm and an afternoon show on March 15th at 3pm. Purchase your pre-sale tickets in the choir room Monday-Thursday leading up to the show until 7pm for $8 each, seniors & students $7 or purchase for $10 at the door!